After five days of driving and wine tasting, it's time to get back into the swing of things and recommit myself to doing good for myself. So, that means eating healthier (excellent) and exercising (one of my least favorite things ever). 
To wit, I have embarked upon the notorious C25K. That's "couch to five kilometers" program. In other words, a training regimen that promises to make my sedentary, achy, wheezy, plump self be able to run 3.1 miles in just nine weeks. 
I'm a little incredulous. 
But, you know, let's be optimistic here. 
For this entry, rather than narrating my experience, I thought I'd answer some FAQ's (that's "fairly anticipated questions") about this latest venture. 
Q: Um, haven't you done this before?
A: First, thanks for remembering! And technically, no, I haven't. I tried a very similar program, but it wasn't actually the C25K program. I know, that's splitting hairs, but hey, I make the rules here. Also, I've decided to erase that past failure from my record and start over. Think of it like having a marriage annulled, or "reclaiming" ones virginity. That said, everything I wrote in the intro to the Jiggly Thighs (I still have 'em) blog four years ago still holds true, except add four years. 
Q: Sometimes you start these longer term projects and then we never hear anything else. How will we know you're sticking with it? 
A: How about I promise to give y'all a weekly update on my progress, good or bad? 
Q: So, like, does this mean you're going to train for a half-marathon?
A: Slow your roll there, jellybean. As I said in the introduction to this project, I will not be running anything with that M word in it.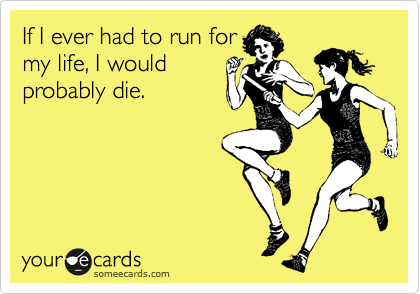 Q: Oh my god, I'm doing the coolest 5K next month! You should TOTALLY do it with me. 
A: One step at a time. I'm not dismissing the idea of eventually participating in some sponsored 5K-type event, but that's certainly not the goal here. 
Q: So, what is the goal?
A: I'd like to be able to pop out for a 30 minute without feeling like I'm going to die. At present, I can't run two consecutive minutes on the treadmill without gasping.
Q: Wait, you're doing this on the treadmill? That's cheating.
A: Be that as it may, and not everyone will agree with you, it's August. 
Q: Well, I run outside, but fine. What are your interval speeds? 
A: 3 mph walk, 6 mph run
Q: A 10-minute mile? My grandmother could run that. 
A: Good for your grandmother. I'm hoping to eventually be able to go faster, but seeing as how I'm not racing anyone, ten minutes works for me. Hell, being able to run one mile, even at a snail's pace, is better than I can do now. And on a health note, my heart rate got up to 200 today. That's above the maximum for someone my age, so increasing speed doesn't seem wise, for now. 
Q: Do you even like running? 
A: Um, no. I don't. But it's free and seems relatively efficient. 
Q: If you don't like running, why don't you try other forms of exercise?
A: First, see above. A lot of more fun-sounding workouts (rock climbing, dance classes, etc.) are pricey. I enjoy hiking, but as I'm not an experienced outdoorswoman, I don't wish to do it alone. I'm not a namaste girl, so yoga isn't my favorite (though I plan to try bikram). And sports can be fun, but the group activity thing is a little uncomfortable for me. 
Q: So, why are you doing this?
A: I know exercise is vital for my health, so I'm really trying to incorporate it into my life. And I want to lose weight. I don't want to look at family pictures with my petite mother and my willowy sister and feel like the chubby one. I want to get rid of my spare tire belly, shrink the tree trunk thighs, maybe try to slow down the falling of the derriere. I want to attend formal functions without double Spanx and control top stockings. 
Q: That's body shaming. You shouldn't do that. 
A: That's body shaming shaming, and you shouldn't do that. Also, please stop using the word "shaming." It's become an obnoxious term. Besides, I'm not telling you that you're chubby. I'm being honest and saying that I'm not happy with how I look right now and I've resolved to fix that. Maybe it would be helpful if I just learned how to love my body, but I don't give anyone else permission to dictate my level of self-esteem. I also don't anyone permission to decide that I'm just a little too fat, aesthetically speaking (a doctor can say so from a medical standpoint). I get to say that my looks are unsatisfactory. You get to adhere to the law of Thumper. And I'll give you the same respect. 
Q: You really think you're going to be able to do this?
A: What kind of an attitude is that? 
Q: Sorry. You can do it! Rah rah!
A: Well, let's not go overboard here.